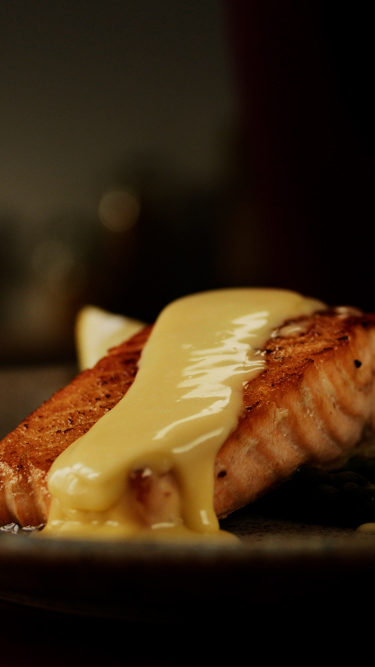 Silky smooth butter sauce
Transform a simple sauce into the ultimate accompaniment to fish with the help of a little butter. Get all your ingredients ready and begin.
The trick to a silky smooth beurre blanc
Beurre blanc is, in all its essence, a simple butter sauce often reminding people of hollandaise sauce due to how similar it is to cook. But beurre blanc definitely has its own place in the heart of cooks and is the ultimate butter sauce for all types of fish and steamed vegetables.
Pick up a few fundamental tips on how to combine taste and texture into a true saucy symphony that takes the popular classic to whole new levels. Technique and a proper choice of ingredients can help you elevate your beurre blanc sauce to breathtaking perfection. Here is how to whisk up a silky smooth beurre blanc sauce.
Select your ingredients carefully
Make sure to have all the ingredients ready before you begin. Proper preparation and strict selection are key to elevating your beurre blanc. Grab your Lurpak®, pick your white wine, choose your white wine vinegar, find the best and most fresh shallots, and finally get your salt and pepper ready.
Wine is important
White wine adds a world of opportunity for you to put your mark on the classic beurre blanc sauce. Use wine you would drink. If the wine is not worthy of your glass, it is not worthy of your sauce. The wine will significantly impact the sauce's flavour, so consider whether to go for a dry, fruity, rich or light wine.
Cook up the sauce
Now it is time to put your skills to the test. Sauce is an ideal opportunity for you to refine some of your techniques in the kitchen. Everything is ready: With fresh ingredients, your favourite tools and a little Lurpak® to hand, you can create a silky smooth beurre blanc. To achieve a smooth sauce, chop the shallots as fine as you can. Leave them in the sauce or remove them with a strainer at the end.
Work your butter
Good food deserves Lurpak®, and combined with the wine, butter is the star of the show. Reduce the heat to low, have your completely cold cubes of butter ready, and add one chunk at a time into your white wine reduction. Let the butter melt completely and whisk firmly. Repeat the process chunk by chunk until every bit of the butter is melted and incorporated into the reduction.
Whisk to achieve smooth butter sauce
Beurre blanc is a great opportunity for you to perfect your whisking technique. Whisk until the consistency of this classic butter sauce is silky smooth. Bring the sauce almost up to the boiling point and when the sauce starts to truly come together, remove it from the heat immediately. Is your beurre blanc pale and does it have a thin, custard-like consistency? Then you have just created the perfect smooth butter sauce.
What to do if your sauce separates
If your beurre blanc starts to separate, it means that either your butter wasn't cold enough or you went overboard and added too much butter to the reduction at the same time. Go lighter on each chunk of butter if you're uncertain about the amount. We have all been there - practice makes perfect so strap on that apron once again cook!
Put your mark on beurre blanc sauce
Cook, experiment with flavours and create spellbinding and irresistible aromas. Cook up different versions of beurre blanc and whip up a smashing signature sauce that will crown any dish. Pick your favourite fresh herbs like basil or tarragon, chop finely and toss it into the pot. You can also turn the sauce on its head and replace white wine with a rich red or red wine vinegar to create a rich beurre rouge. Every tasty creation will naturally reflect your style, preferences and, most importantly, your joy of cooking. Check the texture, smell the aroma and taste your sauce to hone in on creating a beurre blanc sauce that exceeds every expectation.