FUSION OF GREAT FLAVOURS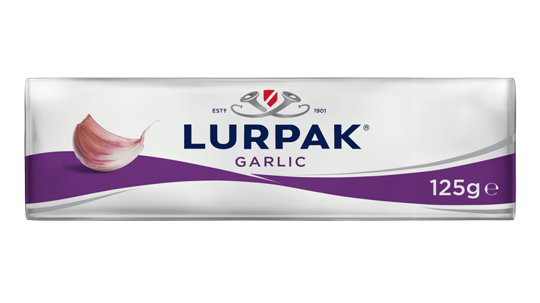 Set your senses alive with the great fusion of our creamy Lurpak® butter with the rich, complex taste of garlic. Lurpak® with crushed garlic is the ideal combination, a match made in heaven. And in a handy compact 125g size it's perfect just to simply slice off what you need and let the heat turn up in the kitchen. Let Lurpak® garlic butter sizzle in your hot pan of seasonal veg, melt it into your hearty soup, or spread it onto some freshly hand baked bread. Turn simple into glorious. The crushed garlic richness delivers in every savoury creation you rustle up in the kitchen. For people who love Good Food, Lurpak® makes it even better. Now sleeves up. Today we cook bold.
UNCOMPROMISING APPROACH TO QUALITY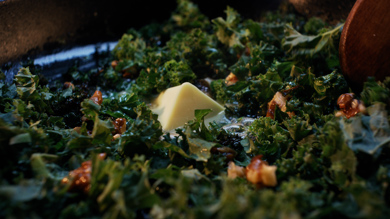 Lurpak® Garlic Butter is made from fresh milk, garlic, and a pinch of salt and pepper. We simply take the cream from the milk and churn until it turns into butter, adding the rest along the way. That's it. Genuine excellence and mouth-watering flavour doesn't just come out of nowhere, and Lurpak® has had an uncompromising approach to making quality butter since 1901.
Nutritional Information
Per 100 g
Energy

696 Kcal / 2865 Kj

Carbohydrates

3g

Fat

75g

Saturated Fats

48g

Protein

1.2g

Sugar

0.8g
INGREDIENTS
Butter (Milk) (89%), Garlic (7.8%) (Garlic Puree, Garlic Granulate, Garlic Powder), Salt, Lactic Culture (Milk), Pepper Extract. Contains milk.