GREATNESS FORGED FROM SIMPLICITY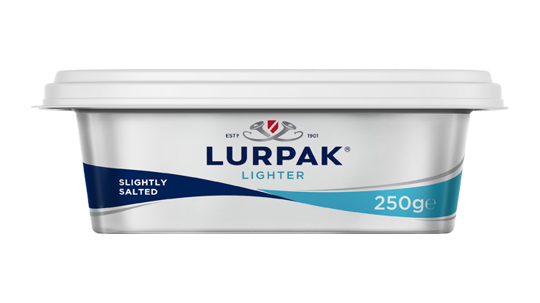 Lurpak® Lighter Slightly Salted Spreadable is the fusion of everything good. The slightly salted Lurpak® taste you love, simply with 25% less fat than your Lurpak® Spreadable. So, toast, baguette, sourdough, crackers - get ready! Lurpak® Lighter Spreadable Slightly Salted is always on hand to turn your simple sandwiches into something glorious. Spread your passion for Good Food with our spreadable that spreads straight from the fridge. The distinctive, creamy, delicate, and fresh taste of Lurpak®, but spreadable and light!
Nutritional Information
Per 100 g
Energy

516 Kcal / 2120 Kj

Carbohydrates

0.4g

Fat

57g

Saturated Fats

22g

Protein

0.3g

Salt

0.91g

Sugar

0.4g
INGREDIENTS
Butter (40%) (Milk), Water, Canola Oil, Salt, Vitamin D. Contains Milk.