BAKED SALMON WITH LEMON-PARSLEY BUTTER
Method
LEMON-PARSLEY BUTTER
1
Rub salt into the butter together with lemon zest and chopped parsley. Place the seasoned butter on cling film or baking paper.
2
Now roll the film tightly around the butter to form a sausage shape. Put it in the fridge to cool.
BAKED SALMON WITH LEMON-PARSLEY BUTTER
1
Place the salmon in an ovenproof tray lined with tinfoil
2
Cut your lemon-parsley butter into slices and place them on top of the salmon.
3
Bake at 200C/180C fan/gas mark 6 for 20 minutes until tender.
To serve: You can sprinkle a little extra parsley and a few slices of lemon over the salmon to garnish.
Where to buy
Lurpak® Slightly Salted Butter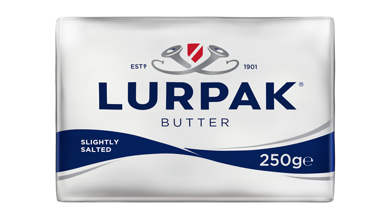 With Lurpak® by your side you're always ready to cook, bake and fry up wonders, cook. With its delicate taste, Lurpak® Slightly Salted Butter enhances the flavour of whatever food you add it to. From a hearty pasta dish, your showstopper fruit pie, to some simple rustic crushed potatoes, its subtle notes complement every creation you rustle up in the kitchen. For people who love Good Food, Lurpak® makes it even better. Now sleeves up. Today we cook bold.
Where to buy