Method
1
Boil the potatoes whilst preparing the rest of the dish.
2
Fillet the fish and cut it into generous serving-ready portions.
3
Heat up a frying pan (a Teflon pan is recommended) and add a good chunk of butter. Allow it to bubble and become golden before you add the fish. Fry for 2 minutes. Flip the fish and fry for 2 more minutes on the other side. Season both sides with salt and pepper.
4
Peel the small carrots and nip the stems of the beans. Boil them in slightly salted water for no more than 2-3 minutes, to leave a bit of a bite.
5
Pour away water and add butter. Stir and toss vegetables to give them a nice, buttery glaze.
HOLLANDAISE
1
Put the butter in a glass or ceramic bowl and lower it into a pot of boiling water at moderate heat. The butter should now separate into a yellow layer on top and a milky white layer beneath.
2
Separate the yellow layer by pouring it into another bowl. Keep removed yellow layer warm and pour away the white layer.
3
Add vinegar to a thick-bottomed pan and reduce by half. Add water and egg yolks, and whip well. It's important to keep whipping to get the rich creamy texture and avoid coarseness.
4
Remove the pan from the heat once the sauce becomes nice and thick. Now whip in your melted butter a little at the time. Season with salt and white pepper.
To serve: Plate your fried fish with potatoes, carrots, beans and hollandaise. Top with dill and fresh lemon juice.
Where to buy
Lurpak® Slightly Salted Butter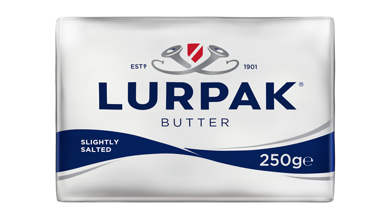 With Lurpak® by your side you're always ready to cook, bake and fry up wonders, cook. With its delicate taste, Lurpak® Slightly Salted Butter enhances the flavour of whatever food you add it to. From a hearty pasta dish, your showstopper fruit pie, to some simple rustic crushed potatoes, its subtle notes complement every creation you rustle up in the kitchen. For people who love Good Food, Lurpak® makes it even better. Now sleeves up. Today we cook bold.
Where to buy