CHICKEN AND COLESLAW SANDWICH
Method
To make the coleslaw
1
In a large bowl, add the yoghurt, lemon juice, horseradish sauce and mix well.
2
Add the cabbages, the red onion, the carrot and stir well so all the vegetables are evenly coated in the dressing.
3
Season with salt and fresh black pepper and leave the coleslaw for 30 minutes to develop the flavour.
To make the sandwich
1
Butter the two bread slices with Lurpak® butter and top one of them with the shredded chicken.
2
Top with the coleslaw and sprinkle over the cress.
3
Top with the remaining bread slices and serve.
Where to buy
Lurpak® Spreadable Slightly Salted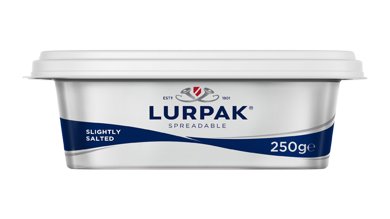 Toast, baguette, sourdough, crackers - get ready! Lurpak® Spreadable Slightly Salted is always on hand to turn your simple sandwiches into something glorious. Spread your passion for Good Food with our Lurpak® Spreadable Slightly Salted that spreads straight from the fridge. The distinctive, creamy, delicate, and fresh taste of Lurpak®, but spreadable!
Where to buy