CHICKEN FRICASSEE WITH PEAS
Method
1
Prepare the chicken by removing the skin and cutting off the meat from the bones. Chop the skin into squares.
2
Heat up a thick-bottomed pan and sear the chicken cuts in butter until they get a nice golden crust.
3
Season with salt and pepper and add the wine. Let it boil until it is reduced by half and pour in the chicken stock, so it partly covers the chicken. Put the lid on and let it simmer at low heat for 20-25 minutes, until the chicken is tender.​
4
Add the cream and let it boil in nicely with the lid off. When the sauce has thickened, add the lemon juice and season with salt and pepper.​
5
Snap off and discard the tough ends of the asparagus. Cut the remaining spears into 3-4 cm sticks and put them in the pan together with the peas. Let it simmer for 2 minutes and sprinkle with freshly chopped tarragon and parsley.​
To serve: Plate alongside freshly baked rustic bread such as sourdough.
Where to buy
Lurpak® Slightly Salted Butter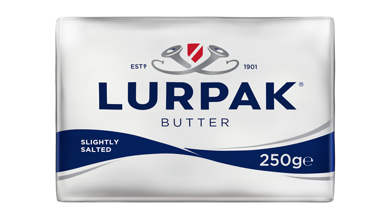 With Lurpak® by your side you're always ready to cook, bake and fry up wonders, cook. With its delicate taste, Lurpak® Slightly Salted Butter enhances the flavour of whatever food you add it to. From a hearty pasta dish, your showstopper fruit pie, to some simple rustic crushed potatoes, its subtle notes complement every creation you rustle up in the kitchen. For people who love Good Food, Lurpak® makes it even better. Now sleeves up. Today we cook bold.
Where to buy