PAN-SEARED LAMB CHOPS WITH GARLIC & ONIONS
Method
1
Marinate the lamb chops with the shallots, garlic, extra virgin olive oil, cider apple vinegar, oregano, parsley, salt and black pepper for 20-30 minutes.
2
Heat a griddle pan and add 30g of butter and place the lamb chops on to cook for 3-4 minutes on each side or to the desired doneness.
3
In a separate skillet, add the remaining Lurpak® butter. Once hot, transfer the remaining shallots and their sauce and add the brown sugar. Cook until the shallots turn golden, but still hold their shape.
4
Arrange the lamb chops and shallots on a platter. Garnish with parsley and serve warm.
Where to buy
Lurpak® Slightly Salted Butter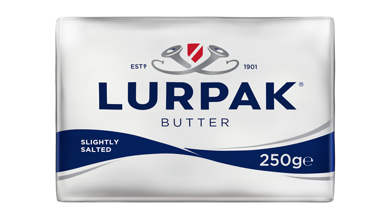 With Lurpak® by your side you're always ready to cook, bake and fry up wonders, cook. With its delicate taste, Lurpak® Slightly Salted Butter enhances the flavour of whatever food you add it to. From a hearty pasta dish, your showstopper fruit pie, to some simple rustic crushed potatoes, its subtle notes complement every creation you rustle up in the kitchen. For people who love Good Food, Lurpak® makes it even better. Now sleeves up. Today we cook bold.
Where to buy