HAZELNUT CAKE WITH SUMMER BERRIES
Method
1
Whip butter and sugar with a hand mixer until it becomes white and fluffy.
2
Add the eggs one by one to avoid the dough from separating. Fold in flour, crushed hazelnuts, crushed chocolate and lime zest and mix.
3
Put the dough in a butter-coated spring cake tin(20 cm) and bake at 170C/150C fan/gas mark 3 for 25 minutes. Leave to cool.
CREAM
1
Open the vanilla pod and scrape out the seeds onto a cutting board.
2
Sprinkle over some icing sugar and crush the vanilla seeds with the flat side of a knife.
3
Whip cream and sour cream together until it becomes stiff. Add the vanilla and icing sugar.
To serve: Arrange the cream on your cake and decorate with fresh berries. Sprinkle with icing sugar.
Where to buy
Lurpak® Slightly Salted Butter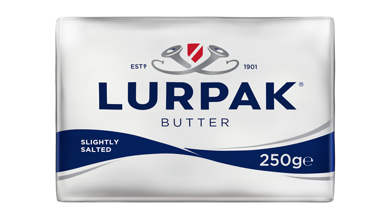 With Lurpak® by your side you're always ready to cook, bake and fry up wonders, cook. With its delicate taste, Lurpak® Slightly Salted Butter enhances the flavour of whatever food you add it to. From a hearty pasta dish, your showstopper fruit pie, to some simple rustic crushed potatoes, its subtle notes complement every creation you rustle up in the kitchen. For people who love Good Food, Lurpak® makes it even better. Now sleeves up. Today we cook bold.
Where to buy