Lamb And Eggplant Meatballs
1 hour 50 mins cooking time
Method
1
Preheat your oven to 190C/170C fan/gas mark 5.
2
Cut the eggplant in half lengthways and score the flesh. Melt 25g of Lurpak® butter and brush all over the aubergine. Season with salt and freshly ground black pepper. Place on a baking tray and cook in the oven for about 30 mins until the flesh is very soft. Spoon the flesh out of the eggplant and set aside in a large bowl.
3
In a saucepan, with another 25g of the Lurpak® butter gently sweat the chopped onion and garlic until soft. Remove half and set aside for the meatball mix. Add the tinned tomatoes into the pan with a pinch of salt and cook for half an hour, stirring occasionally.
4
Meanwhile, mix together the onions and garlic you set aside, with the eggplant, beef mince, lamb mince, breadcrumbs, all of the spices and dried herbs, lemon zest, fresh herbs and the beaten egg, until well combined. Season with salt and black pepper. At this point you can gently fry off a little of the mix to taste for flavour and seasoning.
5
Roll the meatball mixture into 16 even sized balls. Place in an ovenproof dish then cover and surround with the tomato sauce. Dot in the remaining 50g of the Lurpak® butter around the dish and bake in the oven for 30-40 minutes until the meatballs are cooked all the way through. Serve with crusty bread and a green salad.
Where to buy
Lurpak® Slightly Salted Butter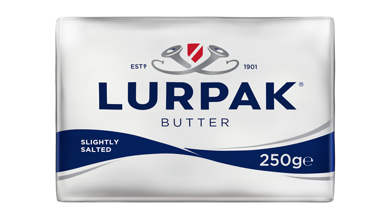 With Lurpak® by your side you're always ready to cook, bake and fry up wonders, cook. With its delicate taste, Lurpak® Slightly Salted Butter enhances the flavour of whatever food you add it to. From a hearty pasta dish, your showstopper fruit pie, to some simple rustic crushed potatoes, its subtle notes complement every creation you rustle up in the kitchen. For people who love Good Food, Lurpak® makes it even better. Now sleeves up. Today we cook bold.
Where to buy