Salted chocolate chunk cookies
Method
1
Preheat the oven to 180C/160C fan/gas mark 4.
2
Beat Lurpak® butter, brown sugar and cane sugar on high-speed in a mixer for about 8 minutes – or until light and creamy.
3
Add the egg and vanilla extract and mix well.
4
Sift the dry ingredients and fold into the butter mixture until completely combined. It's important not to mix the dough too hard – or your cookies will become tough. Mix in the chocolate.
5
Roll a tablespoon of dough into balls and place them on a baking tray lined with baking paper – place only 6-7 balls on one tray as they will spread out while baking. Alternatively use an ice cream scooper to portion the cookie dough and make the perfect size for every cookie.
6
Bake for 12-14 minutes until golden brown.
7
Leave the cookies to rest on the baking trays for a few minutes, then transfer to cool on a baking rack.
8
Sprinkle lightly with a pinch of salt flakes.
Where to buy
Lurpak® Slightly Salted Butter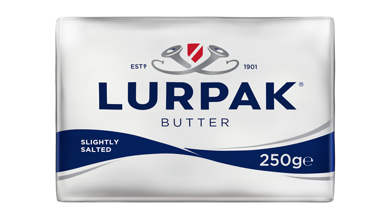 With Lurpak® by your side you're always ready to cook, bake and fry up wonders, cook. With its delicate taste, Lurpak® Slightly Salted Butter enhances the flavour of whatever food you add it to. From a hearty pasta dish, your showstopper fruit pie, to some simple rustic crushed potatoes, its subtle notes complement every creation you rustle up in the kitchen. For people who love Good Food, Lurpak® makes it even better. Now sleeves up. Today we cook bold.
Where to buy