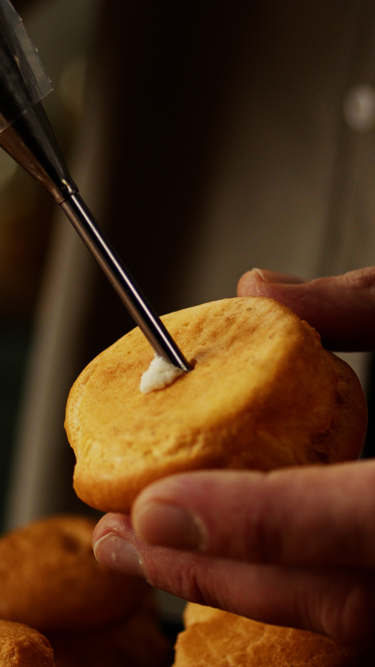 Filling choux pastry
Perfect your technique for filling profiteroles or eclairs with pastry cream or ice cream, and bake up a mouth-watering wonder today.
C

houx pastry and how to fill profiteroles
Profiteroles. Choux pastry. The wonderful, delicious, and sought-after vessel for crème pâtissière, ice cream, whipped cream, custard... You can even fill them with all kinds of savoury ingredients. A little imagination, passion for experimenting and you hold the cards for perfecting choux pastry. Read on to get the tips and tricks to bake choux pastry and master the filling.
Tips for making choux pastry
First, bring the water and butter to a boil, add flour, and stir the mixture well with a wooden spoon in the pot over medium heat. Keep stirring, cook! The dough should be smooth. Test it by checking if it moves away from the edge of your pot, and take it off the heat immediately when this is the case. Cool the dough down a little before you add a beaten egg. If you add it too early, the egg will cook, meaning your pastry will not rise. It is also essential that you do not add too much egg. Consistency is key here. Too runny and it will will affect the rise. Another good tip is to experiment with the shape and form of your dough as well as using spoons or a piping bag with a plain or star-shaped nozzle tip for the filling. This way you can create delicious and beautiful variations of choux pastry.
O

ven closed

,

eyes open.
Once you have your choux pastry in the oven, keep the oven closed. No peeking, no opening the oven. If you open the oven your choux pastry might collapse. Use your eyes to determine whether they are ready through the oven glass door. You want them to be raised and have a golden colour. If so, they are ready, and you can remove them from the oven.
Pierce holes horizontally
Pull your profiteroles out of the oven as soon as they are done and transfer directly to a wire rack. Now grab your sharpest knifeand use the tip to pierce holes in the side of each to let out the steam. This way you prevent them from becoming soggy. Keep your knife horizontal when piercing.
How to fill profiteroles
There are two ways to go: you can either cut them in half or use a piping bag. If you choose to cut them in half, then a spoon is your best choice to place the cream on the bottom half of the profiterole, and then place the other half on top of the cream. Lastly decorate your small masterpieces with your choice of icing or chocolate sauce, or dust with icing sugar. Put your mark on it Cook.
If you want to use a piping bag, try a plain nozzle and fill the bag with the cream. Use the nozzle to make a hole in the bottom of the profiterole and then press the cream into the hollow space inside the profiterole. Serve on a plate or serving dish with the hole facing downwards. That's how you fill profiteroles.
Mix up

your profiterole filling
Here are a few suggestions for you to try. The best profiteroles are filled with passion, skill, and a good measure of the below:
Classic buttercream

Ganache

Custard

Chocolate buttercream

Coffee buttercream
You can of course experiment with your favourite flavours or try a mix of the above. Now, find the kitchen, grab your utensils and go for it Cook!