AMARETTO AND RICOTTA CAKE
1 hour 20 mins cooking time
Method
1
In a blender, lightly blitz the almonds leaving them coarse.
2
Mix the sugar, butter and a pinch of salt. Add the egg yolks and whisk until blended. Finally add the TIPO"00" flour, the pollenta and the previously chopped almonds to the dough. Mix everything Together to combine the ingredients.
3
Form a loaf, wrap it in cling film and let it rest in the refrigerator for at least an hour until it hardens.
4
While the dough rests in the fridge, prepare the filling. 
5
In a blender, blend the amaretti biscuits until almost powdered.
6
Mix ricotta with icing sugar and the blended amaretti biscuits until you get a creamy filling.
7
Grease and flour a 22 cm diameter mould. When the dough has hardened in the fridge, the trick is to crumble it with the help of a grater and create a base by placing half of the crumbs of dough on the bottom, also creating a small side edge that contains the filling.
8
Use a spoon to spread the ricotta and macaroon filling on the dough and cover it completely in a rustic way with the other half of dough crumbs. Bake at 180C/gas mark 4 for 25 minutes and finish baking for another 5 minutes on fan setting. Remove from the oven, allow to cool and sprinkle with icing sugar.
Where to buy
Lurpak® Unsalted Butter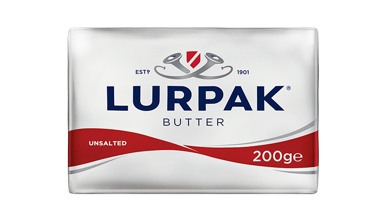 With Lurpak® by your side you're always ready to cook, bake and fry up wonders, cook. With its delicate taste, Lurpak® Unsalted Butter enhances the flavour of whatever food you add it to. From a hearty risotto dish, your weekend baking creations, to some simple earthy mushrooms, its subtle notes complement every creation you rustle up in the kitchen. For people who love Good Food, Lurpak® makes it even better. Now sleeves up. Today we cook bold.
Where to buy