Method
DOUGH
Preheat oven to 180C/160C fan/gas mark 4
1
In the bowl of a mixer, mix the sugar and softened butter.
2
Add the flour and salt and mix again with the egg until you get coarse dough.
3
Roll the dough, wrap it with cling wrap and place in the fridge for an hour.
4
Roll out the dough (it's okay if it's coarse and doesn't stick together, you can press the bits together in the tin).
5
Place it in a pie tin 24 / 26 cm (greased with melted butter) and poke it with a fork so that it doesn't inflate. Place a piece of parchment on the top of the dough, fill with baking beans and blind bake it for about 12 to 15 minutes.
PIE
1
Remove the parchment and the baking beans.
2
Place the thin apple slices on the half-baked dough in layers. 
3
Heat up the apricot jam and spread on the apples.
4
Cook in preheated oven 180C/160C fan/gas mark 4 for 25 minutes or until the dough is golden.
Where to buy
Lurpak® Slightly Salted Butter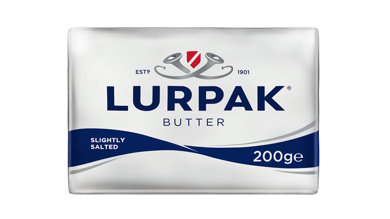 With Lurpak® by your side you're always ready to cook, bake and fry up wonders, cook. With its delicate taste, Lurpak® Slightly Salted Butter enhances the flavour of whatever food you add it to. From a hearty pasta dish, your showstopper fruit pie, to some simple rustic crushed potatoes, its subtle notes complement every creation you rustle up in the kitchen. For people who love Good Food, Lurpak® makes it even better. Now sleeves up. Today we cook bold.
Where to buy