WHOLE GLOBE ARTICHOKE WITH LEMON BUTTER
Method
1
Preheat your oven to 180C/ 160C fan/gas mark 4.
2
Trim the stalk of the artichokes and cut in half. Remove the choke then place the artichokes in a bowl of lemon water, using the juice of one lemon.
3
When you're ready to cook, remove the artichoke halves from the bowl of lemon water, pat dry then lay them cut side up, in a roasting tray and dot with Lurpak® butter.
4
Squeeze with the remaining lemon juice and roast for 30-40 minutes until the artichokes are tender.
5
Remove from the oven and baste with the lemon butter mixture from the bottom of the pan. Serve immediately.
Where to buy
Lurpak® Lighter Slightly Salted Butter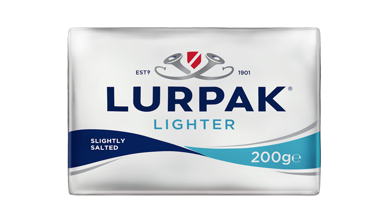 Lurpak® Light butter is greatness forged from simplicity. Made with only 3 natural ingredients, Lurpak® Light butter is the Lurpak® butter you love, simply light. So grab a board, pot, pan or tray, and discover the beauty of simplicity. The humble artichoke, the unassuming mussel, the simple tomato. Modest ingredients. But bring them together with a little Lurpak® Lighter and true greatness can be forged. Master simplicity with Lurpak® Lighter and a few natural ingredients.
Where to buy