Method
1
Preheat the oven to 200C /180C fan /gas mark 6.
2
Mix the Lurpak® butter with dill, chives and zest of both lemons, and season well.
3
Take a large enough piece of foil to wrap the whole of the salmon in and lay one side of the foil onto a large shallow roasting tray. Use a little of the butter to grease the foil and then scatter over the asparagus.
4
Lay the salmon, skin side down, over the vegetables and dot the Lurpak® butter over the flesh of the salmon, spreading with the back of a spoon. Pour the wine around the salmon and then fold the foil over and around the fish and seal the edges tightly.
5
Bake in the preheated oven for 25 - 30 minutes until the salmon is opaque and flakes easily.
6
To serve, squeeze the juice of one lemon over the salmon, cut the remainder into wedges and serve with buttered new potatoes.
Where to buy
Lurpak® Slightly Salted Butter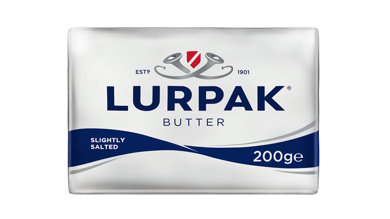 With Lurpak® by your side you're always ready to cook, bake and fry up wonders, cook. With its delicate taste, Lurpak® Slightly Salted Butter enhances the flavour of whatever food you add it to. From a hearty pasta dish, your showstopper fruit pie, to some simple rustic crushed potatoes, its subtle notes complement every creation you rustle up in the kitchen. For people who love Good Food, Lurpak® makes it even better. Now sleeves up. Today we cook bold.
Where to buy