Method
Preheat the oven to 180C/160 fan/gas mark 4
1
Sift the flour, spices, baking powder and salt.
2
Beat the butter and sugar together in a mixer until light and fluffy, starting on a low speed, and gradually increasing to high. Add the eggs and continue to beat on a medium speed for two minutes.
3
Slowly add the dry ingredients until it forms a thick, smooth batter, then fold in the nuts and banana pulp, and fill the muffin forms with the mixture.
4
Scatter the top of each cake with pecans and bake on the middle shelf for 15-20 minutes, or until a skewer comes out clean when inserted in the cake's centre. Leave in the cake tins for 10 minutes then turn out onto a wire rack to cool.
5
Whisk the butter until soft and add icing sugar little by little.
6
When the mixture has turned soft, add the cream cheese to make the icing. Put the icing in a piping bag with an icing nozzle. Decorate the muffins before serving.
To serve: You can top the cakes with edible flowers, desiccated coconut, pecans or banana chips.
Where to buy
Lurpak® Slightly Salted Butter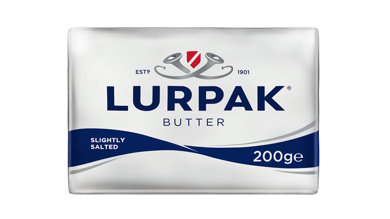 With Lurpak® by your side you're always ready to cook, bake and fry up wonders, cook. With its delicate taste, Lurpak® Slightly Salted Butter enhances the flavour of whatever food you add it to. From a hearty pasta dish, your showstopper fruit pie, to some simple rustic crushed potatoes, its subtle notes complement every creation you rustle up in the kitchen. For people who love Good Food, Lurpak® makes it even better. Now sleeves up. Today we cook bold.
Where to buy