Method
1
To make the syrup, put the sugar and cold water in a pan over a medium heat and let the sugar dissolve. Add the lemon juice and bring the mixture to the boil. Simmer for 8-10 minutes until the mixture is sticky and has thickened to a syrup. Stir in the orange essence and rose water and set aside to cool.
2
Preheat your oven to 180C/160C fan/gas mark 4.
3
In a large mixing bowl, combine Lurpak® butter and sugar and beat until light and fluffy, then stir in the yoghurt. In a separate large bowl, combine the semolina and baking powder. Gently fold in the butter mixture into the semolina until just combined.
4
Pour the batter into a cake tin at least 6cm deep and bake for 25-30 minutes or until golden and a skewer when inserted comes out clean.
How to tell if your cake is done
5
Spoon over the cooled syrup until no more can be absorbed. Cool the cake completely, then turn out on a large plate and cut into diamond shapes.
6
Scatter over the pistachio nuts and serve.
Where to buy
Lurpak® Unsalted Butter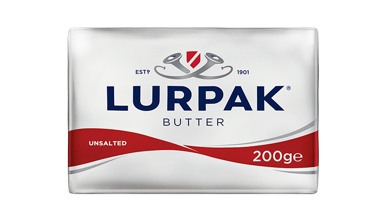 With Lurpak® by your side you're always ready to cook, bake and fry up wonders, cook. With its delicate taste, Lurpak® Unsalted Butter enhances the flavour of whatever food you add it to. From a hearty risotto dish, your weekend baking creations, to some simple earthy mushrooms, its subtle notes complement every creation you rustle up in the kitchen. For people who love Good Food, Lurpak® makes it even better. Now sleeves up. Today we cook bold.
Where to buy