BEEF PENNE PASTA BAKE WITH CREAMY BÉCHAMEL SAUCE
Method
Preheat oven to 175C/155 fan/gas mark 3.
MEAT SAUCE
1
Melt the butter in a pan and add the onion, garlic and celery and cook over medium heat until softened. Add the beef mince and turn the heat up high until the meat starts to brown.
2
Add the remaining meat sauce ingredients, bring to a boil and then reduce the heat and let simmer for 30 minutes until the mince is tender. If it seems to be getting dry add a little water. Season to taste with salt and pepper.
3
Whilst the sauce is cooking, put a pan of salted water on to boil and cook the pasta for 2 minutes less than the packet instructions recommend. Drain and rinse under cold water to stop the cooking process and to keep the penne from sticking together.
BÉCHAMEL
1
Warm the milk carefully in a pan until it just comes to a boil. Remove from the heat.
2
Melt the butter in a medium saucepan and add the flour a little at a time to combine. Stir continuously until the mixture starts to turn slightly brown in colour and produces a nutty aroma.
3
Little by little, add ladles of milk, beating well with a wooden spoon or whisk in between each addition to avoid lumps and create a smooth texture. Once all the milk is added, cook on a low heat for 5 minutes to remove any raw flour flavour.
4
Season with nutmeg, salt and pepper and then add in the gruyere cheese. Keep on a very low heat, stirring all the time until the cheese is completely melted. 
5
Remove from the heat and stir in the egg yolks until fully incorporated.
6
Now you can assemble the dish. Butter your baking dish.
7
Mix a little of the bechamel into the pasta (this will hold the pasta together once cooked) and coat the bottom of the baking dish. Cover the pasta layer with all the meat sauce and smooth down. Cover with a thick layer of the rest of the bechamel and then add chunks of feta cheese on top and sprinkle with the dried mint.
8
Place in the oven for 35-40 minutes until the top is golden brown.
Where to buy
Lurpak® Slightly Salted Butter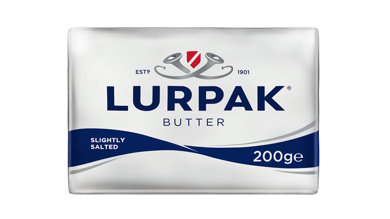 With Lurpak® by your side you're always ready to cook, bake and fry up wonders, cook. With its delicate taste, Lurpak® Slightly Salted Butter enhances the flavour of whatever food you add it to. From a hearty pasta dish, your showstopper fruit pie, to some simple rustic crushed potatoes, its subtle notes complement every creation you rustle up in the kitchen. For people who love Good Food, Lurpak® makes it even better. Now sleeves up. Today we cook bold.
Where to buy