BLACK FOREST PAVLOVA
2 hours 20 mins cooking time
Method
For the meringue
1
Preheat the oven to 180C/160C fan/gas mark 4. Line 2 baking trays with greaseproof paper.
2
Beat the egg whites with an electric whisk on high speed until stiff.
3
Gradually beat in the sugar and continue to whisk until the sugar has dissolved and the meringue is glossy. Beat in the vanilla.
4
Sift the cocoa powder and fold into the meringue with the grated chocolate.
5
Spoon half of the meringue mixture onto each baking tray.
6
Place the baking trays in the oven and immediately reduce the oven temperature to 150C/130C fan/gas mark 3. Bake for 60-90 minutes until dry and firm. Turn off oven and leave to cool inside.
For the topping
1
Drain the cherries and reserve the syrup.
2
Melt 50g of Lurpak® butter and pour the cherry syrup into the pan along with 1/2 the cherries. Cook for 5-7 minutes until reduced. Set aside to cool.
3
Whip the double cream in a mixing bowl until softly peaked.
To assemble
1
Spread one meringue with half the cream. Place half the remaining cherries on the cream and sprinkle with half of the chopped walnuts.
2
Place the second meringue layer on top. Spread with the remaining cream.
3
Arrange the remaining cherries on top and sprinkle with the remaining walnuts.
4
Decorate with chocolate curls and shavings. Drizzle the buttery cherry syrup over the pavlova.
Where to buy
Lurpak® Slightly Salted Butter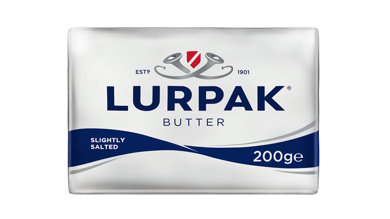 With Lurpak® by your side you're always ready to cook, bake and fry up wonders, cook. With its delicate taste, Lurpak® Slightly Salted Butter enhances the flavour of whatever food you add it to. From a hearty pasta dish, your showstopper fruit pie, to some simple rustic crushed potatoes, its subtle notes complement every creation you rustle up in the kitchen. For people who love Good Food, Lurpak® makes it even better. Now sleeves up. Today we cook bold.
Where to buy