Method
1
Preheat the oven to 170C/150C fan/gas mark 3.
2
Melt Lurpak® butter and 100 g of sugar in a saucepan at low heat.
3
Whisk remaining sugar with the eggs and egg yolk in a separate bowl.
4
Slowly add the warm butter mixture into the egg mixture little by little and mix until completely combined.
5
Sift flour, cocoa powder, baking powder and salt into the mixture with half of the pecans and chocolate. Fold the mixture with a rubber spatula until just combined.
6
Line a 22 x 22 cm baking tray with baking paper and pour the batter into it. Smooth the surface and top with rest of the chocolate and pecans.
7
Bake for 25–30 minutes. The surface should be shiny and a bit cracked – and the cake slightly soft in the middle and not completely baked.
8
Let the brownie cool in the tin on a baking rack before cutting it.
Where to buy
Lurpak® Unsalted Butter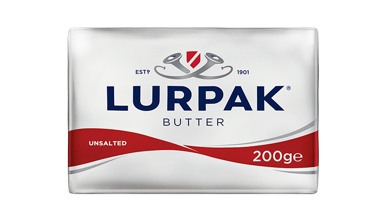 With Lurpak® by your side you're always ready to cook, bake and fry up wonders, cook. With its delicate taste, Lurpak® Unsalted Butter enhances the flavour of whatever food you add it to. From a hearty risotto dish, your weekend baking creations, to some simple earthy mushrooms, its subtle notes complement every creation you rustle up in the kitchen. For people who love Good Food, Lurpak® makes it even better. Now sleeves up. Today we cook bold.
Where to buy