Method
1
Preheat the oven to 180C/160C fan/gas mark 4.
2
Using a handheld mixer or a food processor beat together the butter and sugar until smooth.
3
Whisk in the egg yolk and vanilla extract, then finally the flour to make a dough. If it's a little sticky add a little more flour.
4
Remove from the bowl/food processor and on a floured work surface roll out pieces of the dough in batches to about a 1/2cm thickness.
5
Cut out into shapes using a biscuit cutter, place onto a lined baking tray. Re-roll the off cuts and repeat until all the dough is used up. Place these in the fridge for 15-30 minutes to firm up so they keep their shape when baking.
6
Bake on the middle shelf for 10-14 minutes or until just coloured on the edges. Remove from the oven and cool on a wire rack before decorating with icing.
7
To make the icing sift the icing sugar into a bowl and mix in a couple of tablespoons of tepid water, adding more water if needed to make a thick paste.
8
Divide the icing sugar equally across three bowls and then mix with the different food colouring, so you get one green, one yellow, and one blue batch. Decorate the butter biscuits with the colourful icing sugar.
9
Allow to set before eating.
Where to buy
Lurpak® Unsalted Butter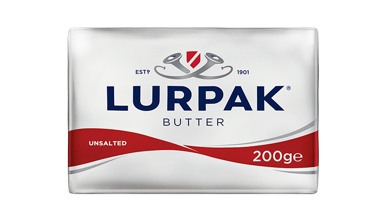 With Lurpak® by your side you're always ready to cook, bake and fry up wonders, cook. With its delicate taste, Lurpak® Unsalted Butter enhances the flavour of whatever food you add it to. From a hearty risotto dish, your weekend baking creations, to some simple earthy mushrooms, its subtle notes complement every creation you rustle up in the kitchen. For people who love Good Food, Lurpak® makes it even better. Now sleeves up. Today we cook bold.
Where to buy