BUTTER CHICKEN
1 hour 30 mins cooking time
Method
1
Over a medium heat melt 30g of Lurpak® butter and cook the onions and garlic for 10 minutes until soft and starting to brown slightly. Then add the ground coriander, ground cumin, turmeric, chilli, ginger and cook for a couple of minutes to release the flavours of the spices. Place the chicken in the pan with the spices and mix to evenly coat all the pieces and brown the chicken.
2
In a separate medium sized frying pan, add 1 tbsp of Lurpak® butter and when sizzling add the cumin seeds, mustard seeds and cook for 1 minute. Pour this mixture into the chicken with the fenugreek. Season with salt and black pepper. Add chopped tomatoes and the chicken stock or water and bring to a simmer. Simmer for 20 minutes. Dot over the remaining butter and stir into the curry until all the butter is melted. Set aside and make the rice.
3
To make the rice, grind the coriander, cardamom, cumin, cinnamon and bay leaves in a pestle and mortar or spice grinder. Melt half the butter in a heavy based pan and add the onion and garlic and cook for 5 mins. Add the turmeric and mustard seeds and ground spices. Fry for 1-2 minutes over a medium heat until the mustard seeds start popping.
Easy tips to elevate your rice flavour
4
Stir in the rice and coat with the spice mixture. Add the stock and season with salt and black pepper. Stir and when the rice begins to bubble, turn the heat down low and cover with a tight-fitting lid. Cook for 10 minutes and then turn off the heat and leave for a further 10 minutes. Meanwhile fry the red onions in the butter for 10 minutes until golden. When the rice is cooked, dot the butter over the rice and fluff with a fork. Put the cover back on the rice and leave until ready to serve.
5
Serve the rice with butter chicken, naan bread, lemon wedges, coriander and top with red onions.
Where to buy
Lurpak® Unsalted Butter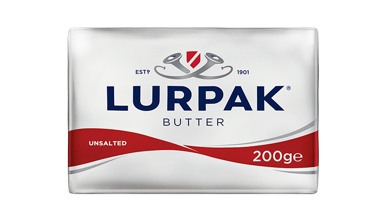 With Lurpak® by your side you're always ready to cook, bake and fry up wonders, cook. With its delicate taste, Lurpak® Unsalted Butter enhances the flavour of whatever food you add it to. From a hearty risotto dish, your weekend baking creations, to some simple earthy mushrooms, its subtle notes complement every creation you rustle up in the kitchen. For people who love Good Food, Lurpak® makes it even better. Now sleeves up. Today we cook bold.
Where to buy