CANEDERLI - ITALIAN HAM DUMPLINGS
Method
1
Cut the bread into very small cubes and place it in a bowl.
2
Beat the eggs with milk. Add the chopped chives, salt, pepper and mix.
3
Add the milk and egg mixture to the cubed bread and mix with a spoon.
4
In a non-stick pan, melt 30g of Lurpak® Slightly Salted Butter and fry the thinly sliced ​​onion. Once golden add 100g of speck cut into small pieces and cook for a couple of minutes. Let it cool down.
5
Add the onion and 350g of ham, mixing well with the mixture of milk, eggs and bread and let it rest for about an hour until the milk is absorbed and the flavours blend.
6
Add the flour to the mixture and form 8 balls (dumplings) by wetting your hands so that the mixture does not stick. Roll the dumplings in flour.
7
Bring plenty of salted water to a boil and cook the dumplings for 15 minutes.
8
In a pan, melt 50g of butter with 50g of ham, add the drained dumplings and leave them to flavour for a few minutes.
To serve: Top with a little bit of grated Parmesan and melted butter.
Where to buy
Lurpak® Slightly Salted Butter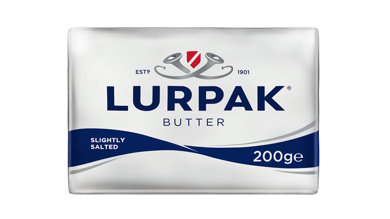 With Lurpak® by your side you're always ready to cook, bake and fry up wonders, cook. With its delicate taste, Lurpak® Slightly Salted Butter enhances the flavour of whatever food you add it to. From a hearty pasta dish, your showstopper fruit pie, to some simple rustic crushed potatoes, its subtle notes complement every creation you rustle up in the kitchen. For people who love Good Food, Lurpak® makes it even better. Now sleeves up. Today we cook bold.
Where to buy