Tagliatelle with king prawns, chilli, lemon zest and flat leaf parsley
Method
1
In a large pan of boiling water, cook the pasta for 10 minutes or according to packet instructions - until just cooked. Drain and reserve the pasta water.
How to cook perfect pasta
2
Meanwhile, in a deep-sided frying pan, add half of the Lurpak® Butter and when it starts to melt add the prawns and saffron; cook for 1 minute.
3
Add the garlic, chilli and lemon zest and cook for a further 1 minute until the prawns have changed colour and are bright pink. Add the lemon juice, the remaining Lurpak® Butter and flat leaf parsley.
4
Season with salt and fresh black pepper. Stir until the Lurpak® Butter is melted and remove from the heat.
5
Add the pasta to the prawns with a ladle of the pasta water. Stir the tagliatelle into the sauce for 1 minute and serve immediately with a rocket, tomato and Parmesan salad.
Where to buy
Lurpak® Slightly Salted Butter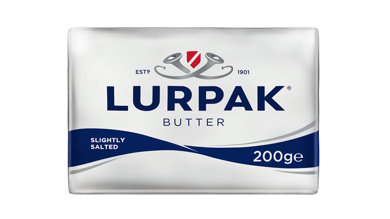 With Lurpak® by your side you're always ready to cook, bake and fry up wonders, cook. With its delicate taste, Lurpak® Slightly Salted Butter enhances the flavour of whatever food you add it to. From a hearty pasta dish, your showstopper fruit pie, to some simple rustic crushed potatoes, its subtle notes complement every creation you rustle up in the kitchen. For people who love Good Food, Lurpak® makes it even better. Now sleeves up. Today we cook bold.
Where to buy