CHOCOLATE CAKE WITH A BUTTER ICING AND CHERRY COMPOTE
1 hour 15 mins cooking time
Method
1
Preheat the oven to 190C / 170C fan/gas mark 5. Line 2 x 20-23cm cake tins.
2
First up, cherry compote. Put all compote ingredients into a medium sized saucepan. Bring to the boil then simmer for 20 minutes or until the sauce has thickened. Give it a stir now and again. Cool and set aside.
3
To make the cake mix, grab a large bowl and add the Lurpak® butter and sugar. Whisk until light and fluffy. Mix in the egg little by little. If the mixture starts to curdle, add a tbsp of flour. This will bring the batter back together.
3 simple tips to get moist and fluffy sponge cake
4
Add the coffee and vanilla. Gently fold in the flour, cocoa powder, baking powder and pinch of salt. Divide equally between the two cake tins and bake in the centre of the oven for 25-30 minutes or until a skewer comes out clean.
5
Cool in the tin for 5 minutes. Then turn out onto a wire rack to finish cooling.
6
It's butter cream time. Beat the Lurpak® butter with the icing sugar and brown sugar. Add vanilla, beat again. Cover with cling film and set aside.
7
Now, to take on the ganache. Melt Lurpak® butter and chocolate in a heatproof bowl over a pan of simmering water. Add sugar and stir until dissolved. Take the bowl off the heat and cool for 5 minutes. Stir in the cream and beat until smooth.
8
Putting it all together. Spread buttercream over the top of one of the cakes. Top with the cherry compote then place the second cake on top. Spread over the chocolate ganache and leave to set for about 1 hour.
Where to buy
Lurpak® Unsalted Butter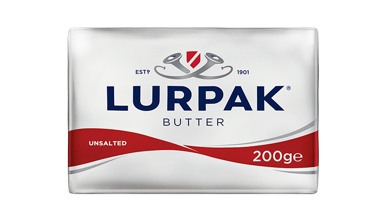 With Lurpak® by your side you're always ready to cook, bake and fry up wonders, cook. With its delicate taste, Lurpak® Unsalted Butter enhances the flavour of whatever food you add it to. From a hearty risotto dish, your weekend baking creations, to some simple earthy mushrooms, its subtle notes complement every creation you rustle up in the kitchen. For people who love Good Food, Lurpak® makes it even better. Now sleeves up. Today we cook bold.
Where to buy