CHOCOLATE AND MANDARIN ROULADE with Hazelnut Caramel Shards
Method
Preheat the oven to 225C/200C fan/gas mark 7.
1
Place baking paper on a baking tray.
2
To make the sponge, in a large bowl whisk the eggs and sugar with an electric whisk for at least 5 minutes until light, pale and fluffy.
3
Sift in the flour and cocoa powder, carefully fold in with a spatula and stir in the mandarin zest taking care not to knock the air out of the mixture.
4
Pour the mixture onto the baking paper on the baking tray and spread into the corners making sure the mix is evenly spread out. Bake for 8 minutes until firm to touch.
5
Place a piece of baking paper the size of the tray on the worktop, sieve over a light dusting of cocoa powder and turn the sponge onto it. Remove the top layer of baking paper and with the help of the paper on the work surface roll the sponge starting from the shortest side. Leave the sponge rolled to cool.
6
To make the ganache, heat the cream in a medium saucepan until warm. Take the pan off the heat and add the broken chocolate stirring continuously until melted. Set aside to cool.
7
To make the butter cream, melt the chocolate in a bowl over a pan of simmering water. Once melted, set aside to cool slightly.
8
In a large bowl with an electric whisk beat the butter until soft then gradually sift in the icing sugar. Stir in the melted chocolate. If the mixture is too stiff add a touch of milk to loosen.
9
To make the hazelnut praline, have a lightly oiled metal tray ready. In a very clean medium sized saucepan over a medium heat add the sieved caster sugar. Do not stir at all but you can roll the pan around to help incorporate all the sugar.
10
When the sugar has dissolved and once it is a rich dark golden brown, add the hazelnuts and immediately pour onto the baking tray. Cool completely before smashing with a rolling pin to make shards.
11
To assemble, uncurl the cold Swiss roll and spread with the butter cream then roll tightly.
12
Cut off about a centimetre from each end to tidy. Place on the dish you want to serve it on. With a pallet knife smooth over the chocolate ganache. Scatter the hazelnut praline shards along the top and grate over some dark chocolate.
Where to buy
Lurpak® Unsalted Butter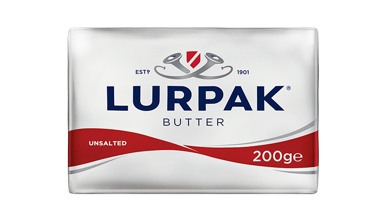 With Lurpak® by your side you're always ready to cook, bake and fry up wonders, cook. With its delicate taste, Lurpak® Unsalted Butter enhances the flavour of whatever food you add it to. From a hearty risotto dish, your weekend baking creations, to some simple earthy mushrooms, its subtle notes complement every creation you rustle up in the kitchen. For people who love Good Food, Lurpak® makes it even better. Now sleeves up. Today we cook bold.
Where to buy