CINNAMON SPICED PROFITEROLES
1 hour 5 mins cooking time
Method
1
To make the profiteroles, sieve the flour onto a piece of baking paper. Over a low heat bring the water and the Lurpak® butter to a rolling boil in a large saucepan. Use the baking paper as a funnel and quickly add the flour mixture straight into the pan. Remove from the heat and beat the dough with a wooden spoon until it is smooth, thick and comes away cleanly from the sides of the pan and cool a little.
2
Gradually add in the beaten egg a bit at a time, not all of the beaten egg may be needed; mixing well between each addition, until the mixture is glossy and smooth with a reluctant dropping consistency off a spoon, but still firm enough to pipe.
3
Preheat the oven to 200C /180C fan /gas mark 6 and line a large baking tray with baking paper.
4
Place a medium sized plain nozzle into a piping bag followed by the dough and pipe small rounds about 5cm in diameter onto the baking tray, leaving space to allow them to rise. If you don't have a piping bag, spoon about one tablespoonful of the mixture onto the baking paper. Dip your finger into a little water and dab any peaks down.
5
Bake on the top shelf of the oven for 25 - 30 minutes until risen, golden and crisp. Remove and make a hole in the bottom of each bun using either a small knife or a straw to let the steam escape. Cool on a wire rack.
6
For the filling, whisk together the cream, the vanilla chestnut spread and cinnamon until lightly whipped.
7
When the profiteroles are completely cold, cut each profiterole in half and pipe the cream in.
8
For the chocolate sauce, add the chocolate, golden syrup and cream to a bowl set over a pan of gently simmering water and stir gently until melted. Use a spoon to spread the chocolate sauce over each profiterole and pile on a plate, decorate with gold leaf and gold dust and serve immediately.
Where to buy
Lurpak® Slightly Salted Butter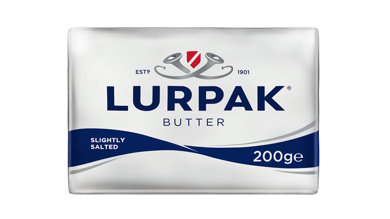 With Lurpak® by your side you're always ready to cook, bake and fry up wonders, cook. With its delicate taste, Lurpak® Slightly Salted Butter enhances the flavour of whatever food you add it to. From a hearty pasta dish, your showstopper fruit pie, to some simple rustic crushed potatoes, its subtle notes complement every creation you rustle up in the kitchen. For people who love Good Food, Lurpak® makes it even better. Now sleeves up. Today we cook bold.
Where to buy