COFFEE AND COCONUT MUFFIN
Method
1
In a saucepan, melt the butter and let it cool.
2
Heat 60g of coconut milk in a saucepanand when hot, add 4 teaspoons of instant coffee in it. Let it melt and mix until smooth. Allow the mixture to cool.
3
In a bowl, mix all the liquids: melted butter, eggs, milk and coffee mixture and the remaining 100 ml of milk. 
4
In another bowl, mix the sugar, flour, starch, coconut, dry yeast and a pinch of salt. 
5
Pour the liquid mixture into the other bowl. Mix vigorously with a whisk until the mixture is smooth and free of lumps.
6
With a spoon, or with the help of a pastry bag, pour the filling into the muffin moulds, until they are almost ¾ full. 
7
Bake in a static oven at 180C/160C fan/gas mark 4 or about 15 minutes. Remove from oven and leave it to cool.
Where to buy
Lurpak® Unsalted Butter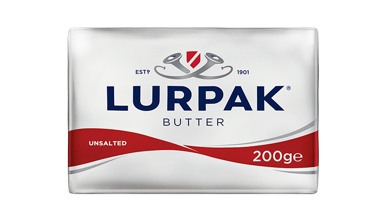 With Lurpak® by your side you're always ready to cook, bake and fry up wonders, cook. With its delicate taste, Lurpak® Unsalted Butter enhances the flavour of whatever food you add it to. From a hearty risotto dish, your weekend baking creations, to some simple earthy mushrooms, its subtle notes complement every creation you rustle up in the kitchen. For people who love Good Food, Lurpak® makes it even better. Now sleeves up. Today we cook bold.
Where to buy