Method
1
Scrub the potatoes and parsnips well and turn them with a little Lurpak® butter, salt and black pepper and thyme and place into an oven proof dish. Cook in oven at 170C/150C fan/gas mark 3 for 30-40 minutes until tender. Once done, mix with coarsely chopped parsley.
2
Char the steak on a smoking hot pan for 3-4 minutes on each side to get a good colour. Place the pan in the oven at 200C /180C fan/gas mark 6 for 20 minutes and turn occasionally in order for the cut to be cooked equally. Remove the steak out and let it rest for 5-7 minutes and it is ready for serving.
For the whipped butter
1
Place the Lurpak® butter into a bowl and whip it until it is light and airy. Gently stir in the garlic, herbs, lemon juice, salt and black pepper.
2
Slice the sirloin and serve immediately.
Where to buy
Lurpak® Slightly Salted Butter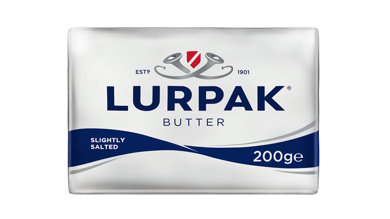 With Lurpak® by your side you're always ready to cook, bake and fry up wonders, cook. With its delicate taste, Lurpak® Slightly Salted Butter enhances the flavour of whatever food you add it to. From a hearty pasta dish, your showstopper fruit pie, to some simple rustic crushed potatoes, its subtle notes complement every creation you rustle up in the kitchen. For people who love Good Food, Lurpak® makes it even better. Now sleeves up. Today we cook bold.
Where to buy