CRISPY FISH WITH MEDITERRANEAN RELISH
Method
1
To make the Mediterranean Relish heat 25g of Lurpak® butter in a large frying pan over a medium-high heat. Fry the potatoes for 3 minutes until golden. Add the onion, garlic, chili and aubergine and cook, stirring, for 5 minutes, until softened.
2
Add the courgettes, tomatoes, sugar, vinegar, capsicum and olives. Reduce the heat and simmer for 5 minutes
3
Heat the remaining Lurpak® butter in a large frying pan over a high heat. Season the fish fillets with salt and black pepper.
Simple tips for pan fired fish with crispy skin
4
Carefully add the fillets to the pan, skin side down. Fry for 3 minutes or until golden and crisp. Turnover and fry for a further 1-2 minutes until cooked through.
5
Serve immediately with the Mediterranean relish.
Where to buy
Lurpak® Slightly Salted Butter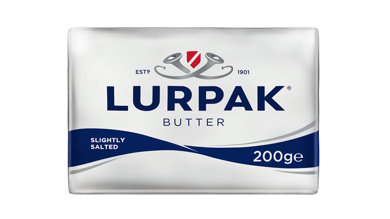 With Lurpak® by your side you're always ready to cook, bake and fry up wonders, cook. With its delicate taste, Lurpak® Slightly Salted Butter enhances the flavour of whatever food you add it to. From a hearty pasta dish, your showstopper fruit pie, to some simple rustic crushed potatoes, its subtle notes complement every creation you rustle up in the kitchen. For people who love Good Food, Lurpak® makes it even better. Now sleeves up. Today we cook bold.
Where to buy