CAPER AND PARSLEY CRUSTED COD
Method
1
Preheat the oven to 200C /180˚C fan /gas mark 6.
2
Cook the onion gently in Lurpak® butter for 15 minutes until softened. Remove half of the onions to a bowl and leave the other half in the pan.
3
Add the breadcrumbs, parsley, capers, lemon zest to the onion in a bowl and mix well.
4
Lightly butter an ovenproof dish and place the cod fillets in it and season well. Press the crumbs onto the top of the fish and bake in the oven for 16 - 20 minutes depending on the thickness of the fillets until just cooked through.
5
Meanwhile make the sauce by adding the stock to the onions in the pan and cook until reduced by half. Gradually swirl in the cubes of cold Lurpak® butter to make a glossy sauce, add the parsley and season with freshly ground black pepper and add lemon juice to taste.
6
Serve the cod with the sauce and seasonal vegetables.
Where to buy
Lurpak® Unsalted Butter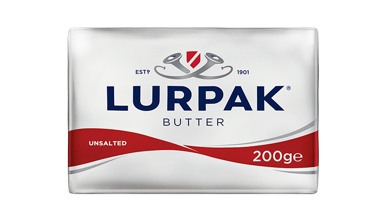 With Lurpak® by your side you're always ready to cook, bake and fry up wonders, cook. With its delicate taste, Lurpak® Unsalted Butter enhances the flavour of whatever food you add it to. From a hearty risotto dish, your weekend baking creations, to some simple earthy mushrooms, its subtle notes complement every creation you rustle up in the kitchen. For people who love Good Food, Lurpak® makes it even better. Now sleeves up. Today we cook bold.
Where to buy