DANISH WHEAT BREAD ROLLS
2 hours 30 mins cooking time
Method
1
Pour the warm milk and water into the bowl of an electric mixer fitted with a dough hook, add yeast and stir to dissolve the yeast.
2
Add the remaining ingredients and knead the dough well for approx. 5 minutes – or until the dough is flexible and smooth. Leave the dough to prove for approx. 2 hours.
3
Place the dough on a table and split it in 20 equal sized pieces and roll them into buns. Place the buns closely together on a lined baking tray and let them rest again for approx. 2 hours covered with a tea towel – or until they have doubled in size.
4
Preheat the oven at 220C/200C fan/gas mark 7.
5
Bake the buns on the middle shelf of the oven for 12-14 minutes.
6
Let the buns cool on a wire rack. Serve them lukewarm or split them in half and toast them. Serve with cold Lurpak® butter
Where to buy
Lurpak® Slightly Salted Butter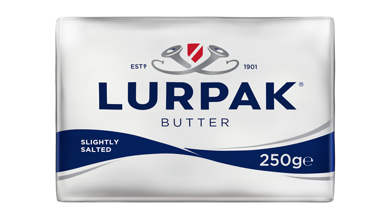 With Lurpak® by your side you're always ready to cook, bake and fry up wonders, cook. With its delicate taste, Lurpak® Slightly Salted Butter enhances the flavour of whatever food you add it to. From a hearty pasta dish, your showstopper fruit pie, to some simple rustic crushed potatoes, its subtle notes complement every creation you rustle up in the kitchen. For people who love Good Food, Lurpak® makes it even better. Now sleeves up. Today we cook bold.
Where to buy