Broccoli and red onion frittata
Method
1
Preheat your oven to 170C/150C fan/gas mark 3.
2
Heat an oven proof frying pan and add half the Lurpak® butter. When the butter is bubbling add the garlic and cook for 1 minute, stirring continuously; then add the onions and cook for a further 5 minutes.
3
Add the remaining Lurpak® butter, broccoli and a tbsp of water. Cook for a further 2-3 minutes or until the broccoli is just tender. If the pan dries out add another tbsp of water.
4
Pour in the egg mixture and tilt the pan so that it distributes evenly. Cook for 2-3 minutes over a medium heat or until the egg has just set on the bottom. Sprinkle over the flat leaf parsley and grated Parmesan.
5
Transfer your pan to the oven for 25 minutes or until just firm and golden. Cut into wedges and serve with a green salad.
Where to buy
Lurpak® Slightly Salted Butter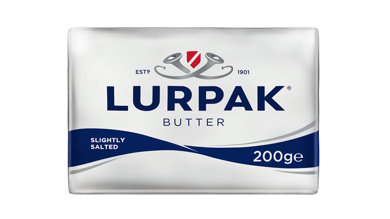 With Lurpak® by your side you're always ready to cook, bake and fry up wonders, cook. With its delicate taste, Lurpak® Slightly Salted Butter enhances the flavour of whatever food you add it to. From a hearty pasta dish, your showstopper fruit pie, to some simple rustic crushed potatoes, its subtle notes complement every creation you rustle up in the kitchen. For people who love Good Food, Lurpak® makes it even better. Now sleeves up. Today we cook bold.
Where to buy