Method
1
Pour the water, oat milk and 100g of Slightly Salted Lurpak® Butter into a saucepan and wait for it to boil.
2
Pour in the semolina and continue stirring until the liquids have been completely absorbed.
3
Incorporate the yolk into the dough while continuing to mix.
4
Cook over a low heat for two minutes, then remove the pan from the heat.
5
Add your turmeric and let the dough cool.
6
After about 15 minutes, lay your dough between two sheets of baking paper and with the help of a rolling pin roll it out so the pastry is at least 1 centimetre thick.
7
Wet the edge of a cylindrical pastry cutter or a glass and cut out some discs in the dough.
8
Grease a pan with butter and lay your gnocchi discs on it.
9
In a saucepan melt 50g of Lurpak® Slightly Salted Butter and add the poppy seeds. When melted, pour it over the gnocchi.
10
Sprinkle with a handful of Parmesan cheese and bake for 15 minutes at 180C/160C fan/gas mark 4 until golden.
Where to buy
Lurpak® Slightly Salted Butter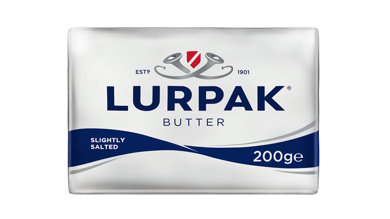 With Lurpak® by your side you're always ready to cook, bake and fry up wonders, cook. With its delicate taste, Lurpak® Slightly Salted Butter enhances the flavour of whatever food you add it to. From a hearty pasta dish, your showstopper fruit pie, to some simple rustic crushed potatoes, its subtle notes complement every creation you rustle up in the kitchen. For people who love Good Food, Lurpak® makes it even better. Now sleeves up. Today we cook bold.
Where to buy