FRIED HALIBUT WITH CELERIAC
Method
Celeriac puree
1
Preheat the oven to 200C/180C Fan/gas mark 6.
2
Roast the hazelnuts for 10 minutes in the middle of the oven. Rub the nuts in a dish towel, so most of the shells fall off.
3
Meanwhile, put the cubed celeriac, cream and enough water to cover, in a pan and bring it to a boil. Boil the celeriac at low heat, stirring occasionally for approx. 20 minutes or until soft. Drain.
4
Add salt and mash the celeriac. Chop the roasted hazelnuts roughly and turn them in the celeriac mash right before serving.
5
Clean the halibut, remove any bones and split the filet into 8 equally large pieces. Melt some Lurpak® butter in a pan. Fry the fish pieces at high heat, approx. 2 minutes on each side. Sprinkle with salt and keep the fish warm.
The perfect pan fried white fish
6
Add Lurpak® butter to the pan and melt at a high heat, but don't let it brown. Add the samphire and cook for 2 minutes before setting aside.
Browned butter
1
Put butter in the pan and let it golden at moderate heat. Drizzle over dish to serve.
Where to buy
Lurpak® Slightly Salted Butter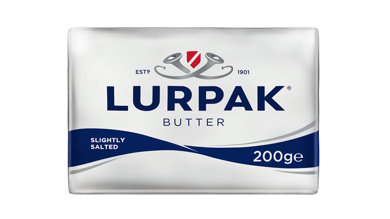 With Lurpak® by your side you're always ready to cook, bake and fry up wonders, cook. With its delicate taste, Lurpak® Slightly Salted Butter enhances the flavour of whatever food you add it to. From a hearty pasta dish, your showstopper fruit pie, to some simple rustic crushed potatoes, its subtle notes complement every creation you rustle up in the kitchen. For people who love Good Food, Lurpak® makes it even better. Now sleeves up. Today we cook bold.
Where to buy