Hot cross buns
1 hour 30 mins cooking time
Method
1
In a small saucepan, heat the milk, butter, orange zest, cloves, ground cardamon and cinnamon stick over a medium heat until the Lurpak® butter has melted. Take off the heat and leave to infuse for at least 30 minutes.
2
Add the flour, spices, mixed peel, sultanas, sugar, salt and yeast into a large bowl.
3
Remove the cinnamon, and cloves from the milk and put the pan on a low heat bringing the temperature up to between 35-38cC. Pour half the milk and the beaten egg into the dry ingredients and using your hands, bring the mixture together. Add the rest of the milk a bit at a time until you have a soft, mouldable dough. If the dough seems dry add a little more milk or water. It's better the dough is a little sticky than dry.
4
Turn out onto lightly floured surface and knead for 8 to 10 minutes until the dough is silky and elastic. Form the dough into a ball and place in a lightly oiled bowl. Cover with cling film or a damp tea towel and leave in a warm place to rise for an hour and a half or until the dough has doubled in size.
5
Turn the dough out onto a lightly floured surface kneading for a couple of minutes until it becomes smooth and elastic. Divide into 12 evenly sized pieces, roll into balls and place on baking tray lined with baking paper placing them close together but not touching. Flatten slightly with the palm of your hand then cover with cling film or a damp tea towel and set aside in a warm place to rise again for 45 minutes until they have risen and are touching. Preheat the oven to 200oC for a fan assisted oven or 220oC for non-fan assisted/gas mark 7.
6
Mix the water, flour and sugar into a paste then spoon into a piping bag.
7
Pipe on the crosses then bake in the oven for 20 minutes until golden.
8
Melt the golden syrup in a small saucepan, brush over the warm buns then serve.
Where to buy
Lurpak® Unsalted Butter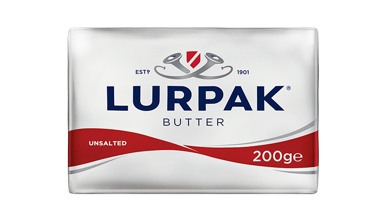 With Lurpak® by your side you're always ready to cook, bake and fry up wonders, cook. With its delicate taste, Lurpak® Unsalted Butter enhances the flavour of whatever food you add it to. From a hearty risotto dish, your weekend baking creations, to some simple earthy mushrooms, its subtle notes complement every creation you rustle up in the kitchen. For people who love Good Food, Lurpak® makes it even better. Now sleeves up. Today we cook bold.
Where to buy