Kourambiedes
1 hour 10 mins cooking time
Method
1
Spread the almonds in a pan and bake in a pre-heated oven at 160C/140C fan/gas mark 4, for 8 minutes or until roasted. Leave to cool down to room temperature and grind them to thick pieces with a pestle and mortar, or by crushing them with the rolling pin between two parchment papers.
2
In your mixer, beat the Lurpak® butter and powdered sugar at a fast speed for about 20 minutes. The longer you beat the dough, the better Kourambiedes you will get. This is the secret to making better Kourambiedes. Once you're done mixing, slowly pour in the flour, baking powder, and vanilla, and continue beating at a lower speed (to avoid straining your mixer) for 10 minutes. Finally, add the crushed almond and rum and mix well.
3
Mould the dough into round balls with diameter of 3cm, and slightly flatten them with your thumb.
4
Place on top of baking parchment on a baking tray and bake in a pre-heated oven at 170C/150C fan/gas mark 3 for 20-30 minutes.
5
Remove from the oven and let cool down to room temperature, then toss them into a bowl with powdered sugar.
6
Make sure they are thoroughly covered on all sides and place them on a serving tray in the form of a ascending pyramid. Dust each layer of the pyramid with powdered sugar as you build it.
Where to buy
Lurpak® Unsalted Butter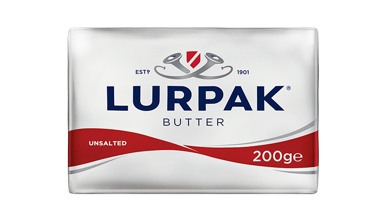 With Lurpak® by your side you're always ready to cook, bake and fry up wonders, cook. With its delicate taste, Lurpak® Unsalted Butter enhances the flavour of whatever food you add it to. From a hearty risotto dish, your weekend baking creations, to some simple earthy mushrooms, its subtle notes complement every creation you rustle up in the kitchen. For people who love Good Food, Lurpak® makes it even better. Now sleeves up. Today we cook bold.
Where to buy