LEMON MERINGUE PIE
2 hours 30 mins cooking time
Method
1
Preheat the oven at 180C/160C fan/gas mark 4.
2
For the pastry, mix the flour, sugar, salt and butter in a food processor until it resembles breadcrumbs. Add the egg yolk and just enough water to bring together into a smooth ball, without overworking the pastry too much. Wrap in cling film and chill for 30 minutes.
3
Roll out the pastry and line a 26 cm in diameter tart tin, trimming it neatly so there's still a little standing above the top of the tin in case of slight shrinkage when baking. Prick the base of the pastry with a fork and chill in the freezer for 20-30 minutes. This can be done the day before and kept in the freezer until ready to bake.
4
Line the tart with greaseproof paper and baking beans or blind baking beans and bake for 20-25 minutes at 180C fan.
5
Meanwhile put the lemon juice and zest in a saucepan with the water and whisk in the cornflour until smooth, then stir in the sugar and yolks. Heat gently until warm, stirring all the time. Then add the butter and bring to the boil, still continuously stirring. It should be as thick as custard. Leave to cool until you are ready to assemble (the cooler the mixture, the easier it is to handle. This too can be done the night before).
6
Remove the beans and paper from your tart case and bake for another 5-7 minutes until the pastry is dry and pale golden. Remove from the oven and when cooled slightly place your lemon filling in the cooked tart case.
7
To make the meringue, whisk the whites until soft peaks form. Add the sugar a little at a time, and whisk until the meringue is stiff and shiny. Whisk in the cornflour, then spoon the mixture on to the top of the pie and shape to make peaks. Put it in the oven and bake at 180C fan until the meringue is golden. Allow to cool before serving.
8
Grate fresh lemon zest over the top of the meringues for that extra zinginess.
Where to buy
Lurpak® Unsalted Butter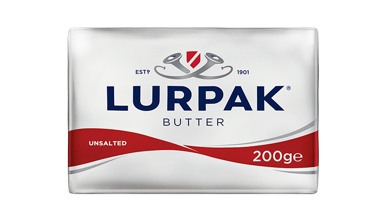 With Lurpak® by your side you're always ready to cook, bake and fry up wonders, cook. With its delicate taste, Lurpak® Unsalted Butter enhances the flavour of whatever food you add it to. From a hearty risotto dish, your weekend baking creations, to some simple earthy mushrooms, its subtle notes complement every creation you rustle up in the kitchen. For people who love Good Food, Lurpak® makes it even better. Now sleeves up. Today we cook bold.
Where to buy