MUSHROOM PAPPARDELLE WITH GARLIC & SAGE
Method
1
Cook the pasta according to pack instructions, drain and set aside, reserving 2 tbsp of the pasta water.
How to cook perfect pasta
2
Melt the Lurpak® butter in a large pan over a medium heat. Add the mushrooms and cook until soft and starting to colour around the edges.
3
Next, add the garlic, cooking for a further 2 mins, then stir in the sage and lemon juice.
4
Tip the drained pasta & reserved pasta water into the mushroom mix and toss everything until well combined. Season to taste and serve.
Where to buy
Lurpak® Slightly Salted Butter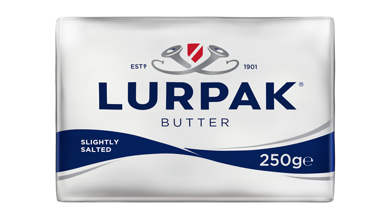 With Lurpak® by your side you're always ready to cook, bake and fry up wonders, cook. With its delicate taste, Lurpak® Slightly Salted Butter enhances the flavour of whatever food you add it to. From a hearty pasta dish, your showstopper fruit pie, to some simple rustic crushed potatoes, its subtle notes complement every creation you rustle up in the kitchen. For people who love Good Food, Lurpak® makes it even better. Now sleeves up. Today we cook bold.
Where to buy