Roast turkey with orange and cranberry glaze
Method
1
Preheat oven to 180C/160C fan/gas mark 4. Firstly, work out your turkey cooking time based on 40 mins per kg for the first 4kg, plus 45 mins for every kg after that. For a 5kg turkey this will be approx. 3 hours and 25 minutes.
2
Place the turkey in a roasting tray and cover with the softened Lurpak® butter, salt and black pepper. Stuff the cavity with bay leaves.
3
Place in the oven and roast for 3 hours.
4
Meanwhile, place all the glaze ingredients in a pan and cook on a low heat until the sugar has melted. Then turn up to a gently simmer until the glaze has thickened and become slightly syrupy. Remove from the heat and leave to cool slightly.
5
After the 3 hours remove the turkey from the oven and cover generously with the glaze. Add the carrots and the red onions to the bottom of the tray. Return to the oven and cook for the remaining cooking time or until the thickest part of the breast is pierced and the cooking juices run clear. Alternatively, you can use a meat thermometer to pierce the thickest part of the breast to read at least 72C.
6
When the turkey is cooked. Remove from the oven and cover with foil. Allow at least 45 minutes to 1 hour before carving.
Where to buy
Lurpak® Slightly Salted Butter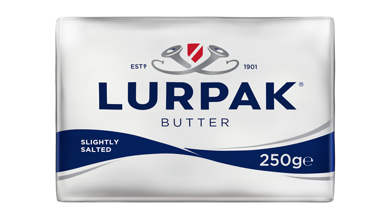 With Lurpak® by your side you're always ready to cook, bake and fry up wonders, cook. With its delicate taste, Lurpak® Slightly Salted Butter enhances the flavour of whatever food you add it to. From a hearty pasta dish, your showstopper fruit pie, to some simple rustic crushed potatoes, its subtle notes complement every creation you rustle up in the kitchen. For people who love Good Food, Lurpak® makes it even better. Now sleeves up. Today we cook bold.
Where to buy