OVEN ROASTED VEGETABLES WITH GARLIC AND THYME
Method
1
Preheat your oven to 200℃/180℃ fan/gas mark 6
2
Spread the vegetables in a single layer on a large baking tray or roasting tin. If you have too many to fit on one tray, then split and arrange over two trays.
3
Melt butter in a saucepan and pour half of it over the vegetables. Put into the oven for 15 minutes.
4
Remove the vegetables from the oven and coat again with the rest of the melted butter.
5
Sprinkle over the thyme leaves then return to the oven for a further 15 minutes or until golden and cooked through. Sprinkle with salt and pepper.
Where to buy
Lurpak® Slightly Salted Butter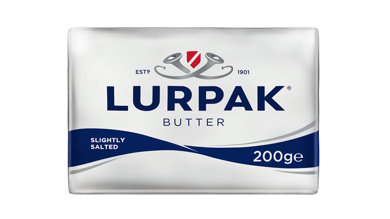 With Lurpak® by your side you're always ready to cook, bake and fry up wonders, cook. With its delicate taste, Lurpak® Slightly Salted Butter enhances the flavour of whatever food you add it to. From a hearty pasta dish, your showstopper fruit pie, to some simple rustic crushed potatoes, its subtle notes complement every creation you rustle up in the kitchen. For people who love Good Food, Lurpak® makes it even better. Now sleeves up. Today we cook bold.
Where to buy