RISOTTO WITH SAFFRON & PARMESAN
Method
1
In a pan, bring the stock to the boil and then turn down and leave to simmer.
2
Meanwhile in a separate pan, melt 100g of the Lurpak® butter and then add the onion and garlic. Cook over a low heat for five minutes until the onion is soft.
Bring forth creamy risotto
3
Add the rice and cook for a couple of minutes, making sure all the rice is coated in the butter. Add the lemon and let it evaporate completely. Add the saffron and give the rice a stir.
4
Start to add the stock a ladleful at a time. Stir well until the stock has evaporated. Continue adding stock for about 15 minutes. After this slow down the addition of stock as you don't want the risotto to be too sloppy. The risotto is ready when the grains are still a little al dente.
5
To finish, beat the remaining Lurpak® butter into the risotto and then stir in the parmesan. Beat again until the risotto is soft and creamy. Check for seasoning and serve immediately.
Where to buy
Lurpak® Slightly Salted Butter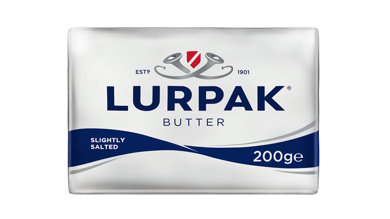 With Lurpak® by your side you're always ready to cook, bake and fry up wonders, cook. With its delicate taste, Lurpak® Slightly Salted Butter enhances the flavour of whatever food you add it to. From a hearty pasta dish, your showstopper fruit pie, to some simple rustic crushed potatoes, its subtle notes complement every creation you rustle up in the kitchen. For people who love Good Food, Lurpak® makes it even better. Now sleeves up. Today we cook bold.
Where to buy