PARSNIP AND PRALINE CAKE
1 hour 45 mins cooking time
Method
1
For the caramel, put the sugar in the saucepan and slowly heat without stirring, until it has melted and turned an amber colour. Add the syrups and Lurpak® butter and stir until the butter has melted. Remove from the heat and stir in the cream and salt and cool for at least an hour until thickened.
2
Meanwhile, preheat the oven to 180C / 160C fan /gas mark 4 and grease and base line 3 x 20cm cake tins.
3
Put the flour into a bowl, stir through the baking powder, bicarbonate of soda, salt and sugar. Stir through the pecans coat in the flour mixture.
4
In another bowl mix together the eggs, parsnips, vanilla extract and melted Lurpak® butter. Pour the egg mixture onto the flour mixture and fold in well but don't over mix.
5
Divide equally between the three tins and bake in the preheated oven for 25 minutes until springy to the touch and coming away from the sides.
6
Leave in the tins for a few minutes before turning out onto a cooling rack and cool.
7
Meanwhile, make the icing, beat together the maple syrup, icing sugar and melted Lurpak® butter using a hand held whisk. Put aside for the icing to become spreadable, about 30 minutes.
8
For the pecan brittle, oil some baking paper on a baking sheet. Place the pecans and sesame seeds on the paper. Slowly heat the sugar, without stirring, in a small frying pan, until melted and turns a golden brown. Pour over the nuts and seeds, then set aside until hardened, and roughly chop.
9
To assemble the cake, place one sponge on a cake stand, spread over a thin layer of icing, top with another sponge and repeat finishing with the final sponge. When ready, use a palette knife and spread a thin layer of icing all over the cake, using about half the icing. Place the cake in the fridge for 20 minutes and then re-ice it all over to finish off.
10
Spread the caramel over the top of the cake and let it drip down the sides and finish sprinkled with the pecan brittle.
Where to buy
Lurpak® Unsalted Butter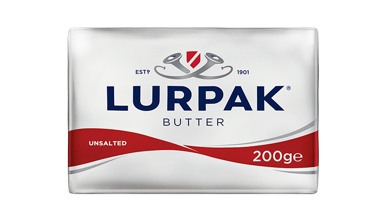 With Lurpak® by your side you're always ready to cook, bake and fry up wonders, cook. With its delicate taste, Lurpak® Unsalted Butter enhances the flavour of whatever food you add it to. From a hearty risotto dish, your weekend baking creations, to some simple earthy mushrooms, its subtle notes complement every creation you rustle up in the kitchen. For people who love Good Food, Lurpak® makes it even better. Now sleeves up. Today we cook bold.
Where to buy