PASTICCIOTTI – FILLED ITALIAN PASTRY
1 hour 35 mins cooking time
Method
SHORTCRUST PASTRY
1
Work the flour, sugar and butter into soft pieces, adding vanilla seeds and eggs in a mixer whisking until the dough is smooth.
2
Cover it with cling film and place in the refrigerator for at least 4 hours.
MARSALA CREAM
1
In a bowl, mix sugar and starch, add the egg yolks and marsala and mix with a hand whisk but without whipping it to the point of changing texture.
2
Separately, heat the milk and cream until almost boiling, turn off and pour into the egg yolk mixture, stirring with a whisk. Put everything back on the heat and whisk until the cream firms.
3
Turn the heat off and pour the cream into a baking dish, then cover it with cling film. Refrigerate to cool.
FORM THE PASTRY
1
Roll out the pastry into circles larger than the moulds and cover each mould with the pastry.
2
Fill the holes with the marsala cream and then close with another layer of shortcrust pastry, tapping the edges with fingers to join the two parts.
3
Brush each pastry with egg white and bake at 180C/165C fan/gas mark 4 for 30-35 minutes.
Where to buy
Lurpak® Unsalted Butter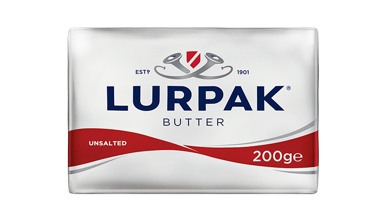 With Lurpak® by your side you're always ready to cook, bake and fry up wonders, cook. With its delicate taste, Lurpak® Unsalted Butter enhances the flavour of whatever food you add it to. From a hearty risotto dish, your weekend baking creations, to some simple earthy mushrooms, its subtle notes complement every creation you rustle up in the kitchen. For people who love Good Food, Lurpak® makes it even better. Now sleeves up. Today we cook bold.
Where to buy