Risotto with Green Peas and prawns
Method
1
Separate the prawns from the shells, and cut the prawns into small bite size pieces. Remember to keep the shells as we'll need them for the stock.
2
Melt some Lurpak® butter in a thick-bottomed pan and add the chopped onion. Sauté until soft and transparent. Add the rice to the pot and heat whilst stirring continuously. Pour in the white wine and keep stirring to avoid the rice from getting burnt.
Bring forth creamy risotto
3
Now start adding the prawn stock little by little and bring the rice to the boil. Once almost all of the prawn stock has been added and the rice has started to become creamy, mount the risotto with small chunks of cold Lurpak® butter and parmesan stir in well. Once all melted add the peas.
4
Pour in the last bit of stock and season with salt and black pepper. Give it a good stir at the end, to give the risotto a rich creamy texture and keep warm. Quickly fry the prawns in Lurpak® butter in a hot pan just before serving. Arrange them on top of the risotto with some freshly chopped basil.
Prawn stock:
1
Sear the prawns shells in a pot with some butter. Add the finely chopped herbs and vegetables and pour water over until the contents are just covered. Season with salt and black pepper. Let the stock simmer for 20 minutes.
2
Once done sieve the shells, herbs and vegetables from the stock.
Where to buy
Lurpak® Slightly Salted Butter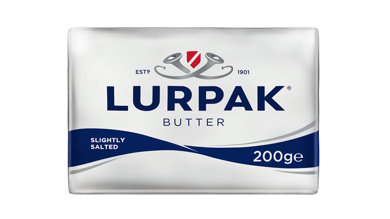 With Lurpak® by your side you're always ready to cook, bake and fry up wonders, cook. With its delicate taste, Lurpak® Slightly Salted Butter enhances the flavour of whatever food you add it to. From a hearty pasta dish, your showstopper fruit pie, to some simple rustic crushed potatoes, its subtle notes complement every creation you rustle up in the kitchen. For people who love Good Food, Lurpak® makes it even better. Now sleeves up. Today we cook bold.
Where to buy