Rhubarb, almond and ginger cupcakes with orange buttercream icing
Method
1
Pre-heat the oven to 200C/180C fan/gas mark 6​.
2
On a large baking tray, place in one layer of the rhubarb. Sift over the 2 tbsp icing sugar and bake for 8-10 minutes or until the rhubarb is tender. Put to one side to cool.
3
Meanwhile, sift together the icing sugar and flour. Stir in the ground almonds, ginger and vanilla essence.
4
In a separate bowl whisk the egg whites until frothy and then fold into the dry mix. Stir in the cooled melted Lurpak® Butter.
5
Half fill each of the cupcake cases with the cake mix, add a couple of pieces of rhubarb and cover with the remaining cake mix. Top with the remaining rhubarb. Bake for 15-20 minutes until golden and firm to the touch. Allow to cool completely.
6
Meanwhile, make the butter icing. In a large bowl, whisk the Lurpak® Butter until light and fluffy. Add in the icing sugar, vanilla essence & orange zest and whisk until fully combined. If the mixture is too thick add the milk.
The secret to a light and fluffy buttercream
7
Spread the icing over the friands and sprinkle with the toasted almonds and orange zest.
Where to buy
Lurpak® Unsalted Butter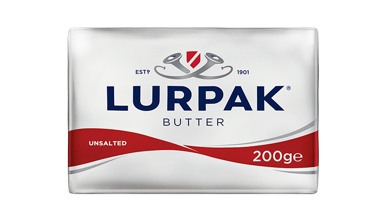 With Lurpak® by your side you're always ready to cook, bake and fry up wonders, cook. With its delicate taste, Lurpak® Unsalted Butter enhances the flavour of whatever food you add it to. From a hearty risotto dish, your weekend baking creations, to some simple earthy mushrooms, its subtle notes complement every creation you rustle up in the kitchen. For people who love Good Food, Lurpak® makes it even better. Now sleeves up. Today we cook bold.
Where to buy