ROAST BEEF AND RED PEPPER SANDWICH
Method
1
To make the pickled onions, put the sliced onions into a small bowl. Mix white wine vinegar and caster sugar and pour the mixture over the onions. Leave for 15 minutes.
2
Butter each slice of bread with Lurpak® and scatter with watercress.
3
Top with roasted red pepper and then with the roast beef.
To serve: Sprinkle over the pickled onions and top with the remaining slice of bread. Serve immediately
Where to buy
Lurpak® Spreadable Slightly Salted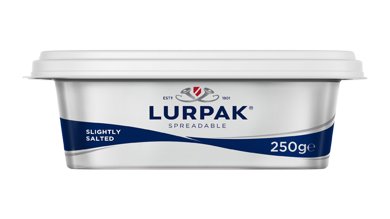 Toast, baguette, sourdough, crackers - get ready! Lurpak® Spreadable Slightly Salted is always on hand to turn your simple sandwiches into something glorious. Spread your passion for Good Food with our Lurpak® Spreadable Slightly Salted that spreads straight from the fridge. The distinctive, creamy, delicate, and fresh taste of Lurpak®, but spreadable!
Where to buy