ROASTED SEA BASS WITH GARLIC & CHILLI BUTTER
Method
1
Preheat your oven to 190C/ 170C fan/gas mark 5.
2
Wash the sea bass inside and out and pat dry with kitchen paper.
3
Make about 3-4 slashes across the flesh of the fish, ensuring you do not cut to the bone.
4
Prepare the roasting tray by rubbing a thin coating of the butter all over the surface of the tray.
5
Put the remaining Lurpak® butter in a bowl and mix in the chilli and garlic until soft and well combined.
6
Spoon the butter mix into the fish cavities and place the lemon slices and the thyme on top of the butter.
7
Lay the sea bass on the buttered tray and roast for about 20-30 minutes, depending on the size of fish − the flesh should feel firm to touch.
8
Remove from oven and leave to rest for 5 mins before serving. Season and serve with crushed new potatoes and green beans.
Where to buy
Lurpak® Slightly Salted Butter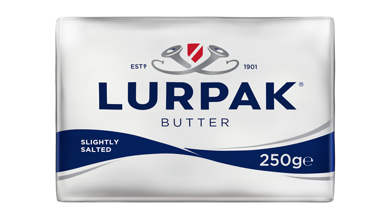 With Lurpak® by your side you're always ready to cook, bake and fry up wonders, cook. With its delicate taste, Lurpak® Slightly Salted Butter enhances the flavour of whatever food you add it to. From a hearty pasta dish, your showstopper fruit pie, to some simple rustic crushed potatoes, its subtle notes complement every creation you rustle up in the kitchen. For people who love Good Food, Lurpak® makes it even better. Now sleeves up. Today we cook bold.
Where to buy