PAN FRIED SALMON WITH ASPARAGUS
Method
1
In a large frying pan, melt half the Lurpak® butter over a medium heat and cook the salmon skin down for 5 minutes.
Simple tips for pan fried fish with crispy skin
2
Turn the salmon over, add the remaining Lurpak® butter and asparagus, and cook for 2-3 minutes more.
3
Squeeze over the lemon then serve immediately.
Where to buy
Lurpak® Lighter Slightly Salted Butter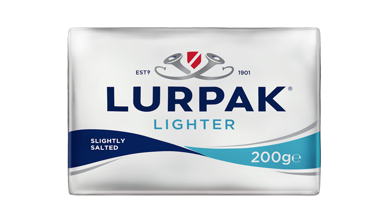 Lurpak® Light butter is greatness forged from simplicity. Made with only 3 natural ingredients, Lurpak® Light butter is the Lurpak® butter you love, simply light. So grab a board, pot, pan or tray, and discover the beauty of simplicity. The humble artichoke, the unassuming mussel, the simple tomato. Modest ingredients. But bring them together with a little Lurpak® Lighter and true greatness can be forged. Master simplicity with Lurpak® Lighter and a few natural ingredients.
Where to buy